By Christopher Flavelle – Re-Blogged From http://www.Bloomberg.com
Obama's aides spread money across the government, eluding cuts

Most recent estimate puts tab at $77 billion from 2008-2013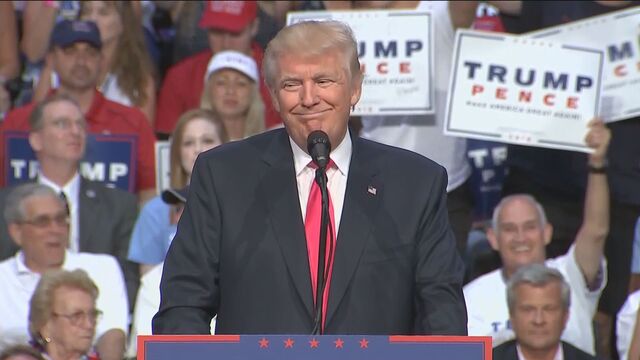 President Donald Trump will find the job of reining in spending on climate initiatives made harder by an Obama-era policy of dispersing billions of dollars in programs across dozens of agencies — in part so they couldn't easily be cut.
There is no single list of those programs or their cost, because President Barack Obama sought to integrate climate programs into everything the federal government did. The goal was to get all agencies to take climate into account, and also make those programs hard to disentangle, according to former members of the administration. In some cases, the idea was to make climate programs hard for Republicans in Congress to even find.
"Much of the effort in the Obama administration was to mainstream climate change," said Jesse Keenan, who worked on climate issues with the Department of Housing and Urban Development and now teaches at Harvard University. He said all federal agencies were required to incorporate climate-change plans into their operations.
The Obama administration's approach will be tested by Trump's first budget request to Congress, an outline of which is due to be released Thursday. Trump has called climate change a hoax; last November he promised to save $100 billion over eight years by cutting all federal climate spending. His budget will offer an early indication of the seriousness of that pledge — and whether his administration is able to identify programs that may have intentionally been called anything but climate-related.
The last time the Congressional Research Service estimated total federal spending on climate was in 2013. It concluded 18 agencies had climate-related activities, and calculated $77 billion in spending from fiscal 2008 through 2013 alone.
But that figure could well be too low. The Obama administration didn't always include "climate" in program names, said Alice Hill, director for resilience policy on Obama's National Security Council.
"Given the relationship that existed with Congress on the issue of climate change, you will not readily find many programs that are entitled 'climate change,'" Hill, who is now a research fellow at the Hoover Institution, said in an interview. At the Department of Defense, for example, anything with the word climate would have been "a target in the budget process," she said.
The range of climate programs is vast, stretching across the entire government.
The Department of Agriculture created "climate hubs" to help farmers and ranchers cope with extreme weather. The Department of Health and Human Services began analyzing the effects of climate change on occupational safety. The Bureau of Reclamation started a program called "West-Wide Climate Risk Assessments," measuring changes to water supply and demand. The Bureau of Indian Affairs created the Tribal Climate Resilience Program. The Agency for International Development created a program to help "glacier-dependent mountain areas" deal with the risk of those glaciers melting.
In other cases, agencies expanded existing programs to account for global warming. In 2012, the Federal Highway Administration made climate-adaptation projects eligible for federal aid. Last year, the Department of Housing and Urban Development awarded $1 billion through its Community Development Block Grant program to projects protecting against climate change-related natural disasters.
Meanwhile, a handful of lesser-known offices saw their funding increase while Obama was in office. The budget for NASA's Earth Science program increased 50 percent, to $1.8 billion. Funding for the U.S. Global Change Research Program, which is mandated by Congress to report every four years on the state of climate change, rose 45 percent to $2.6 billion. At the National Science Foundation, the geosciences program almost doubled to $1.3 billion.
Republican Demands
Republicans noticed, and tried to force the administration to offer a tally of climate funding. Last December, senior House Republicans sent a letter to Obama's budget director, demanding that his office report how much federal money had gone toward climate programs in fiscal years 2015 and 2016.
Any cuts may face opposition in Congress, as Democrats and some Republicans support the spending, especially that to help communities withstand floods, hurricanes or droughts associated with climate change. Wednesday, a group of 17 Republicans announced their support for climate science — and policy measures to address it.
"Budget cuts to programs — or elimination of entire agencies — designed to help stem the costs of climate change will only hurt ranchers, agriculture producers, and coastal communities already experiencing the impacts of this global challenge," Christy Goldfuss, managing director of the Council on Environmental Quality in Obama's White House, said by email.
'Gravy Train'
Some in Trump's party now urge him to use his authority to find those programs, and take them apart.
"The Trump Administration needs to defund the entire apparatus of the climate change federal funding gravy train," said Marc Morano, a former Republican staffer for the Senate Environment and Public Works Committee. "In order to dismantle the climate establishment, agencies and programs throughout the federal government need to be targeted."
"The climate funding has spread to almost every aspect of the federal government with sometimes wacky results," said Morano, who doubts global warming and runs the website climatedepot.com. He cited one example of a Department of Transportation query about the link between climate change and fatal car crashes.
Others argue that the spread of climate programs throughout the federal government simply reflects the evolving nature of the risk.
"It is irresponsible not to examine the possibilities and understand our sensitivity to them," said Ed Link, a former director of research and development for the U.S. Army Corps of Engineers who led the forensic analysis of Hurricane Katrina's effect on New Orleans. If federal agencies stop doing that work, he said by email, "shame on them."