Re-Blogged From Space Weather
NOAA has released a new interactive tool to explore the solar cycle. It lets you scroll back through time, comparing sunspot counts now to peaks and valleys of the past. One thing is clear. Solar Minimum is here, and it's one of the deepest in a century.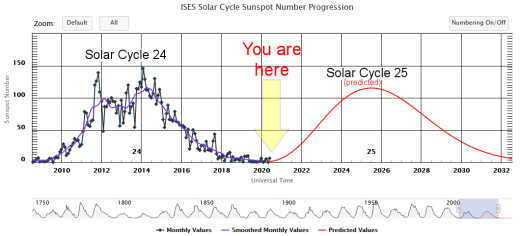 Click to explore almost 300 years of sunspot counts
Solar Minimum is a natural part of the solar cycle. Every ~11 years, the sun transitions from high to low activity and back again. Solar Maximum. Solar Minimum. Repeat. The cycle was discovered in 1843 by Samuel Heinrich Schwabe, who noticed the pattern after counting sunspots for 17 years. We are now exiting Solar Cycle 24 and entering Solar Cycle 25.